Photos of the Rebuilding of the
1522-A water car, Firefly and Black Gold
---
Not only did the crew have to rebuild the steam engine, but all of the train which travels with the 1522 has been rebuilt as well. The cars have been rebuilt to Amtrak standards with inspection and certification by Amtrak inspectors. They only lack the Head End Power (HEP) electrical system to be able to travel in Amtrak trains. More information on the cars can be found on the 1522's Train Page
.
1522-A Water Car
The 1522-A arrived at the Museum with its original high speed trucks which were removed and scrapped - to be replaced with modern roller bearing trucks for reliability. The car had recently been used to haul sand for diesel locomotives on the Illinois Central and required extensive rebuilding of the tank baffling to haul water again.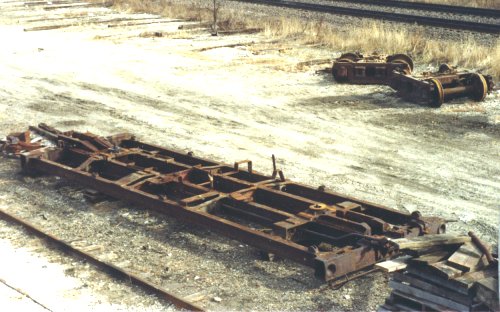 The water car tank was lifted off the frame and then the frame lifted off the trucks and flipped over. Extensive modifications to the coupler pockets were necessary to fit the new tightlock couplers. The frame was then sandblasted, primed and painted. In the background are the old trucks.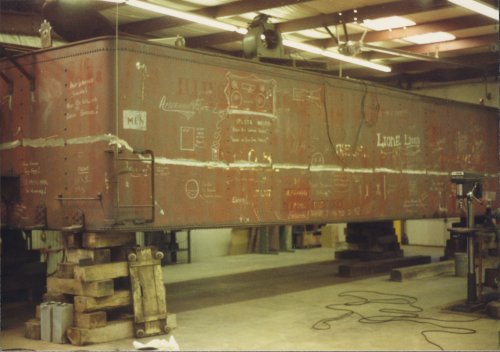 The tank was moved to the shop of one of the crew members where the sloping sheet metal for the sand was removed and the water baffling re-installed. This required several months of work inside the tank, fitting and welding the plates into place. The graffitti was added by the welding crew - doubtlessly after breathing too many fumes.
Firefly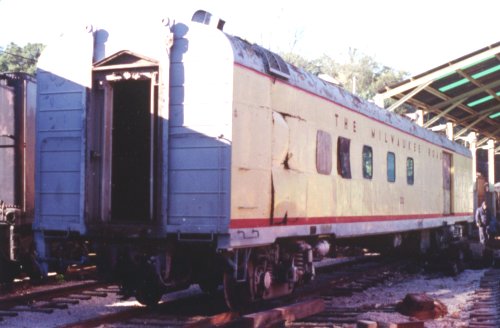 This was the sorry looking car with which we started. The buckled skin on the near part of the side covered a steam driven air conditioner for the car. The condensation from this air conditioner, and the showers across the hall, had destroyed much of the structure on that end of the car.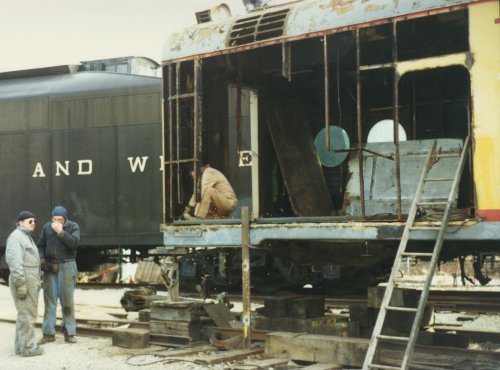 Dismantling the corroded area of the Firefly . Note that the car is on blocks with the trucks removed for rebuilding.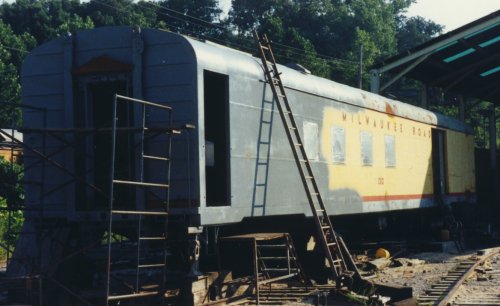 After replacing the structure, the new siding is installed. The corroded end of the car was left open to become a small lounge for the crew and dutch doors were added - giving us another place to hang out and watch the train in action.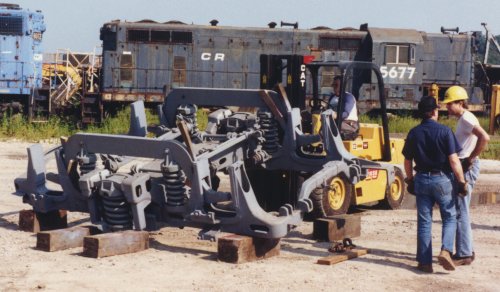 The trucks were completely torn down, blasted, magnafluxed to check for cracks, reworked where necessary and rebuilt. Here a forklift is used to very carefully flip the truck back upright. These trucks are known as Nystroms and were unique to the Milwaukee Road. While rather difficult to work on, the work pays off as they provide a very nice ride.
Black Gold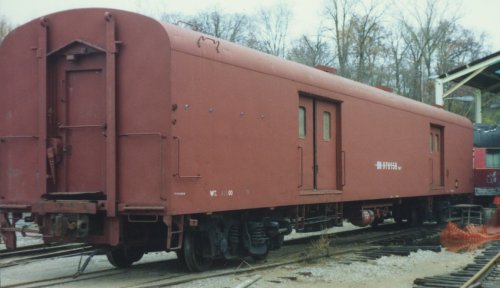 Compared to the Firefly , the Black Gold arrived in great condition. Little or no body work was needed apart from cleaning out all the old glass phone pole insulators we found aboard.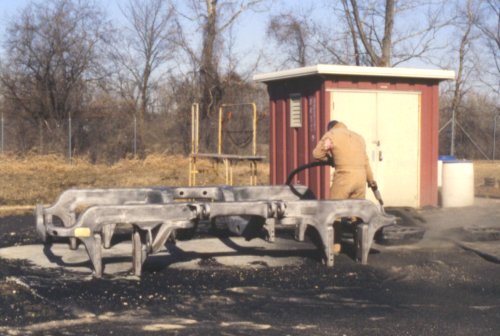 Amtrak requires cars over 40 years old to have their trucks removed and torn down for inspection, and having already done several cars, we fully agree with this requirement. Here the disassembled truck frame is being sandblasted.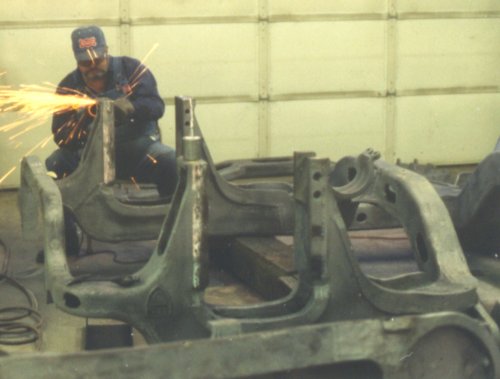 Upon close inspection, one of the truck pedestals was found out of line. The solution is to weld up one side and grind down the other, as Don Wirth is doing, to bring it back into line. Its a lot of work but the result is a truck that will track straight and provide a good, safe ride.
---
Return to the 1522 Photo Gallery